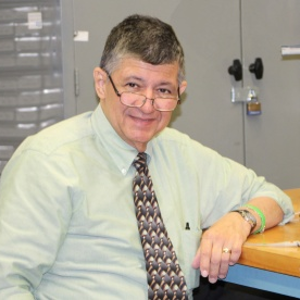 Fred R. Stolfi
SENIOR LECTURER
230A S.W. Mudd
Mail Code 4703
Research Interests
High speed and high accuracy mechanisms, novel electromechanical systems, the design of mechanical systems employing electronics, control systems and software from microcomputers, complex control systems.
Mechanical systems designed through mechatronics offer the efficiency and reliability of electronics, the precision and speed of controls, and the functionality of software. Research in mechatronics involves the application of these techniques to systems to achieve a level of performance not otherwise possible.  
Fred Stolfi worked for over 25 years in industrial research as a mechatronics engineer for Xerox, N.V. Philips and SCM Corporation. At Xerox, he designed advanced control systems for copiers and printers and for advanced products and internal factory automation systems. At Philips, he was the project leader for a NASA sponsored state-of-the-art cryogenic refrigerator for spacecraft use.
As a lecturer and adjunct associate professor at Columbia University, he performs research in the areas of mechatronic control systems, modeling, dynamics, and mechanical design. He has developed a popular lecture/laboratory course: "Mechatronics and Embedded Microcomputer Control" and is the department coordinator for the FE exam (Professional Engineering Exam).
Stolfi is a founder and consultant for ELMETECH (ELectro-MEchanical TECHnology) LLC, an independent engineering consulting firm. Together with Kevin Craig (Hofstra), he has conducted short courses in Mechatronics for the engineering staff of major commercial companies such as Proctor and Gamble, Hershey, Kollmorgen, Samsung, and Dade Bearing. He is the author of over 30 publications and conference papers and developed a 12-hour video course in Mechatronics for the IEEE.
Fred Stolfi attended Fordham University, Bronx, NY, and graduated with a BA degree in mathematics (cum laude) in 1972. He received a MS in 1976 and the professional degree of engineer in electrical engineering in 1988 from Rensselaer Polytechnic Institute (RPI), and Columbia University, respectively. He received his PhD in mechanical engineering from RPI in 2001.  
PROFESSIONAL EXPERIENCE
Senior lecturer in mechanical engineering, Columbia University
Research scientist and research staff at Xerox and Xerox MESA, 1987-2001
Research staff, N.V. Philips, 1979-1988
Technical staff, SCM Corporation, 1976-1979
HONORS & AWARDS
Xerox Excellence in Science and Technology Award  

NASA Public Service Medal

Xerox Research Center Certificate of Achievement
Xerox Citation of Merit
IR-100 Technology Award: Stirling Cycle Cryogenic Refrigerator and
IR-100 Technology Award: Magnetic Bearing
PROFESSIONAL AFFILIATIONS
IEEE (Institute of Electrical & Electronic Engineers)
ASME (American Society of Mechanical Engineers)
AIAA (American Institute of Aeronautics and Astronautics)
SAE (Society of Automotive Engineers)
American Physical Society
AAAS (American Association for the Advancement of Science)
Robotics International
The Society of Rheology
SME (Society of Manufacturing Engineers)