Congratulations, Graduates
Nov 30 2017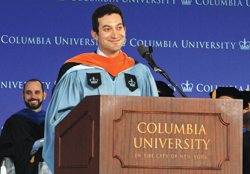 Jon Oringer MS'99, founder and CEO of Shutterstock, was the Columbia Engineering Class Day Speaker.
"This really is the age of engineering. Every day we see how engineering solutions are meeting basic human needs—by increasing the productivity of agriculture; providing clean water, sanitation, mobility, and electricity in the developing regions of the world; or as we transform modern cities to smart cities; and as we strive to personalize medicine."
—Dean Mary C. Boyce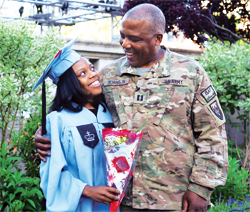 U.S. Army Capt. Keith Robinson got a last-minute leave from his Afghanistan tour to surprise daughter Ruby D. Robinson.
Faculty awards were presented as follows:
CEAA Distinguished Faculty Teaching Awards
Alfred V. Aho, Lawrence Gussman Professor of Computer Science Ibrahim S. Odeh, lecturer in discipline in civil engineering and engineering mechanics
Janette and Armen Avanessians Diversity Award
Klaus S. Lackner, Maurice Ewing and J. Lamar Worzel Professor of Geophysics
Edward and Carole Kim Award for Faculty Involvement
Michael I. Hill, lecturer in chemical engineering design
"You are the most entrepreneurial generation in history. Thanks to your Columbia education, you are trained to see and solve problems differently, and you know better than most that life's annoyances are just amplified opportunities, especially if you're willing to risk seizing them." —Jon Oringer MS'99